What is NeoGraft?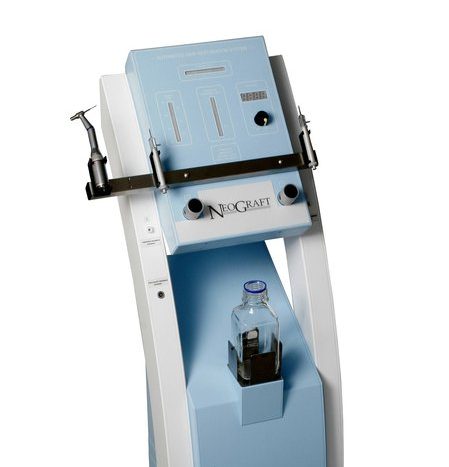 Neograft is one of the many tools available for FUE. Neograft FUE is an automated/motorized device which facilitates the harvesting of follicles during a Follicular Unit Extraction (FUE) dramatically improving the accuracy and speed over manual methods. Learn more about the latest advances in hair transplant technology.
What is the cost of FUE and Neograft?
We are a follicular unit transplant clinic dedicated to treating male pattern baldness. As such, the cost of follicular unit transplants with Neograft do not vary significantly by the tool used. We do not often do manual FUE due to the advanced number of available tools for follicular unit restoration from Alphagraft, Neograft. So regardless of the instrument used, the cost is relatively similar.
We're proud to be the hair transplant surgeons of choice for pro athletes, actors & celebrities.
FUE/NeoGraft™ vs Linear Harvesting?
Results are similar. FUE procedures, by default, yield grafts that contain mainly one, two, three, or four follicles called "follicular units." Strips or linear harvests, are removed from the back of the scalp and are then microscopically dissected by a team into grafts of one, two or three follicles, would also yield similar 'follicular-unit' grafts. Provided that in each case the grafts are implanted with care, artistry and precision into the recipient area, the final transplanted results with FUE would be similar, if not identical, to those accomplished with a linear harvest. The difference is not in the area of hair growth, but how the donor area is harvested either by a strip of the scalp or by small individual graft extractions. Using the FUE Technique leaves no linear scar. Overall patient reviews have been impressive. In particular, patients are surprisingly pleased with the speed and efficiency of the FUE systems such as Neograft.
What are the side effects and complications of FUE with Neograft?
Like with any procedure, the risk of infection is the main concern. However, we do provide multiple steps to help minimize and nearly eliminate this risk. Pain is very minimal with some people returning to work faster than ever.
Am I a good candidate for a procedure using FUE or NeoGraft FUE?
The best way to determine whether you are a candidate for hair transplant using NeoGraft follicular unit transplant approaches is a one-on-one consultation with your doctor.
Neograft is a great device and has now been in use around the world for many years. Newer technology like ARTAS robotic transplants has also become available in select clinics.
Read more about the technology behind FUE hair restoration & Neograft.
We do not do strip surgery harvesting at our Restoration Center. This option gives you a no-scalpel, no-stitch procedure with minimal downtime. After a consult, we can provide more on the cost of a hair transplant to restore your thinning hair. We are proud of our positive reviews with our FUE systems, experienced team, and positive outcomes.
Neograft FUE Houston
The Neograft is unique among the tools used for FUE in several ways. However, like any tool, the user is as important as the instrument. Not many people talk about the bat used by the famous baseball player, and that is because it is the skill of the athlete that matters the most.
*Neograft FUE allows us to produce delicate natural results. However, every scalp is different. As with any medical procedure, we aim for perfection but outcomes may vary due to many reasons including other potential compromising medical conditions like diabetes, or physical strain the day after the procedure and so forth. Many require only one treatment, however, some require several treatments to obtain full restoration. The number of treatments will vary by the patient's hair type, scalp response, and ability to complete a certain number of follicles in one procedure. We do not charge a flat fee that punishes you if we are not able to hit a certain number of follicles, we ONLY charge you for the follicles we can implant. This alone offers significant savings over what others may offer.