Although we own the device, we currently do not use the Artas Robot for Hair Transplantation. In our experience, we have determined that Neograft is currently a superior tool for follicular unit extraction. The information on this page is for patient education only.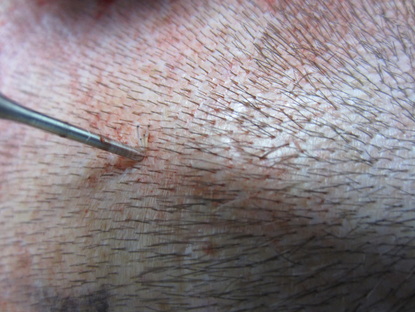 The FUE procedure with ARTAS robot hair transplant system now offers more options for balding patients in Houston. This robotic hair restoration system is unique due to the level of sophisticated software involved. Robot FUE tools, like ARTAS, are just another tool in the arsenal for restoration.
However, it does not make a hair restoration center automatically an expert at hair replacement. The artistry and aesthetics of hair restoration, as well as the logistics of obtaining optimal graft survival, play an even more critical role in the hair transplant results. To learn more about a robot hair transplant in Houston, we encourage you to visit us to discuss your options.
How does the ARTAS computerized robotics system change the world of FUE hair transplants?
This is 21st century technology and a dramatic leap forward in the world of robotic FUE hair restoration. Many of the best hair transplant doctors in the world have begun to adopt such technologies. This physician controlled system uses a 3-Dimensional image-guided program with a robotic arm, video imaging with instant live motion tracking, and a friendly user interface. This system has taken a very labor intensive procedure and made it much quicker. This also allows the system to be more exact as it dissects 500 grafts per hour, which can translate into 3,000 grafts per session for select candidates. As a tool in the world of FUE hair transplants, it is important to learn about the physician using them to treat your thinning hair. We have extensive information on some of the FUE hair restoration tools available and encourage you to learn more about your options.
Does a Robotic FUE Hair Transplant hurt?
In general, the lack of a scalpel in the hair restoration procedure, means less pain is often involved. Neograft and Artas Robotic FUE Hair Transplants offer the latest in hair replacement for male pattern baldness. The robografts are extracted with a high quality consistency only achievable by computerized robotics. Patient reviews & comments have been overall positive in the comfort and results seen.
How far do I have to travel if I am interested in a robot hair transplant?
Robot hair transplant consults are available to patients in Houston, Austin and a short distance to most locations in Texas or Louisiana. The travel costs can be offset by travel allowances for patients living outside our procedure location. Only a handful of locations in the world offer this technology for advanced state of the art restoration. We are also one of the worlds few dual ARTAS Neograft FUE center with several FUE systems under one roof.
Why choose FUT Strip vs Artas or Neograft FUE?
This is a personal decision. Years ago, bariatric (weight loss/lap-band), gallblader, and other surgeries where done with giant scalpel cuts resulting in long down time. Nowadays, the majority of these procedures are done by laparoscopic surgery and with a less invasive approaches. FUE is a similar advantage in that it lacks large scalpel cuts, stitches, and has almost no downtime or pain. Artas and Neograft bring this next level of care to hair restoration.
What is the cost of a robot hair transplant procedure in Houston?
The cost of an Artas procedure depends on many factors including the center, the region of the country and so forth. In general, the Artas robot hair transplant cost should be weighed against the experience and volume of the practice i.e do they mainly do FUE and a lot of it?. An affordable restoration does not mean you are sacrificing on quality, but you should still do your due diligence research. National rates range from $4/graft to $15/graft for FUE with the ARTAS system. Learn more about our cost for an Artas transplants.
Will I have A Line Scar?
Artas robotic FUE hair transplants are similar to Neograft FUE restoration in that no line scar is produced. You can wear your hair short after this restoration procedure.
What Is The Advantage of Robotic hair transplant and motorized Neograft FUE?
Compared to manual FUE hair transplants, these approaches increase the number of grafts that can be done in one procedure. However, increased speed can also result in increased transection and poor quality grafts so it is important that the physician using the tool be experienced in hair restoration. Some people like to compare Neograft and ARTAS robot hair transplant, which are some of the tools of FUE. While some candidates can choose one vs the other, many patients are not eligible for both depending on multiple factors.
Neograft FUE technology & Artas robotics are the latest to have gained FDA approval for use in the United States. This latest technological step forward in restoration that has passed FDA review. Only a few of these devices exist in the world.
Is an Artas robot hair transplant safe?
Dr. Jezic's Houston clinic has closely followed the development of the ARTAS Technology for its safety profile and effectiveness. After extensive review of the ARTAS system and reviews of the precision guided technology, Dr. Jezic has implemented the system at the Dr. Jezic's Center. As the ARTAS Procedure is much less invasive than most of the procedures performed, his experience with restoration procedures gives him a significant advantage in offering the ARTAS Procedure to our patients. The robotic guided 3-D visualized precision of ARTAS is unparalleled. Compare Artas vs Neograft FUE and learn more.
What is the recovery time after an Artas robotic hair restoration?
A robot hair transplant is an FUE hair restoration procedure offered in our Texas clinic. These procedures can use a device like the Artas hair transplant system for restoration. This approach has little to no downtime compared to the older strip harvest method of hair transplants. For Artas hair restoration in Houston, we offer several amenities to make your treatment and recovery as enjoyable as possible.
How Common Is Artas?
We strive to remain among the leading FUE centers in the nation. With our close proximity to San Antonio, Austin and Louisiana we draw patients from a large radius. The Robot Hair Transplant System is available in the leading FUE Centers in the Nation. Many centers mix FUE with FUT/Strip surgery, and a handful do only FUE with both Artas and Neograft. Due to the advanced level of technology and the volume of patients required to make its use feasible, it is not available in every clinic in every city. If you like history, we invite you to read our section on the Houston arrival of the Artas robot.
Read more about how Artas FUE grafts have eliminated the hair plug.