You have a choice:
You do not need to risk a line scar with FUT What can the line scar look like? See the photos below. Then you will understand why many prefer FUE instead.
Real natural hairs can be restored to reduce or eliminate multiple visible scar types including: Hair Transplant line scars from traditional old style hair restoration i.e the FUT method. This is different from follicular unit extraction (FUE) that does not leave a line scar.
Our FUE clinic implants hairs grafts into the FUT line scar to make it less visible. We also implant hair micro-grafts into scars from face lifts, brow lifts, and other procedures. So, when evaluating FUE vs FUT consider the scar of FUT.
Did you know an FUT transplant scar can look like the ones below, or worse?
Did you know FUE with the Dr. Jezic's Center will not leave you with line scar?
Do you have a line scar (like the one below) from older FUT?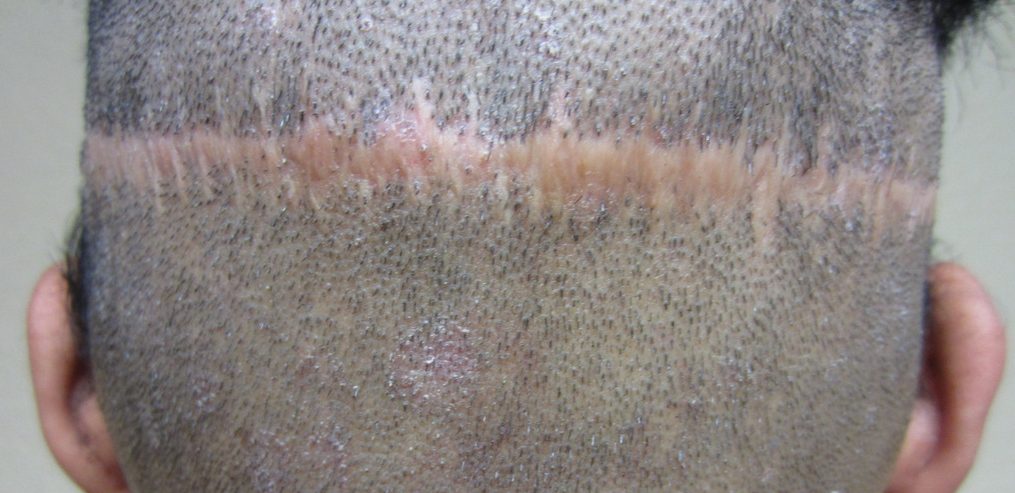 Above: This is a photo of a line scar from FUT strip surgery harvesting for a hair transplant. As you can see, the reason we do NOT do this old style scarring procedure is obvious.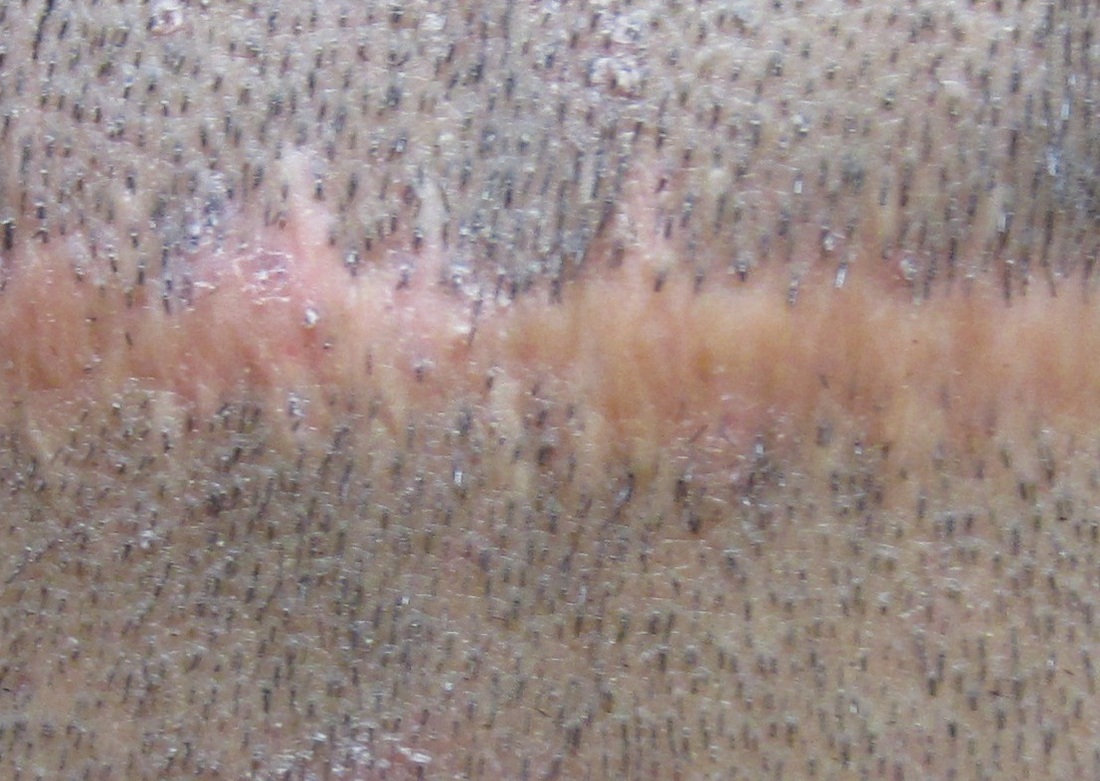 Here is a close up of the same wide gaping scar.
Avoid the FUT line scar – Call to learn more : 713-864-2300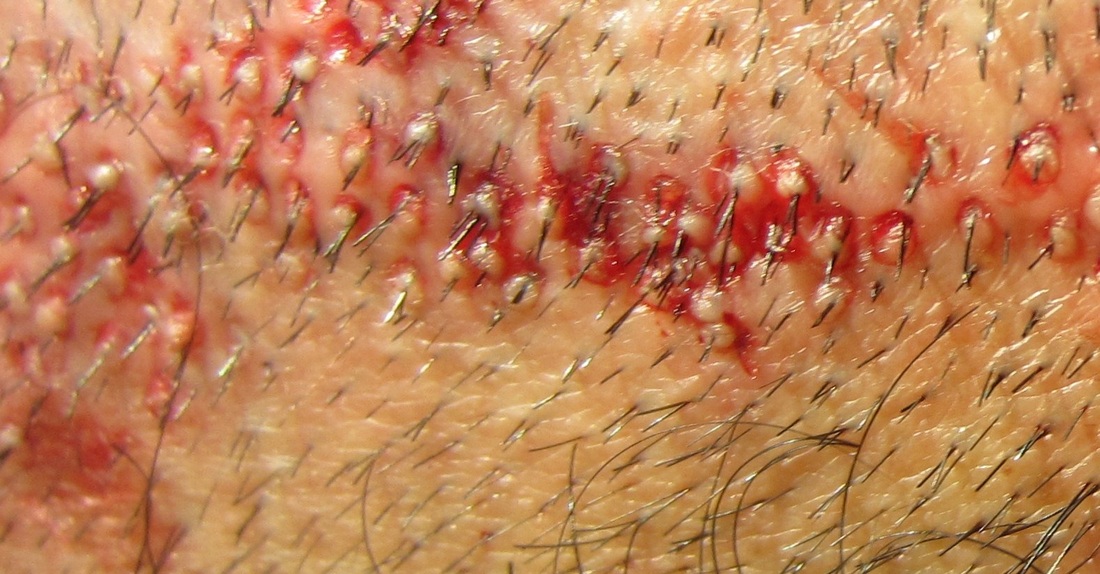 Here is the same scar minutes after our no scalpel procedure. Here you can see the fine FUE hair grafts sitting inside of, and masking, the line scar created by strip surgery harvesting for hair transplant. This procedure is completed in a matter of hours to fix an FUT scar originally made during strip surgery treatment of male pattern baldness.
Unlike strip surgery harvesting, FUE hair transplant harvesting gives you healing that is quicker and with
little down time or pain. Once the hair cycle normalizes, the scar is hidden behind you own natural and real hair.
Please note that restoration in scars can be incredibly difficult and the odds of graft survival in a scar are significantly lower.
Below are more examples of patients with FUT (not FUE) strip surgery scars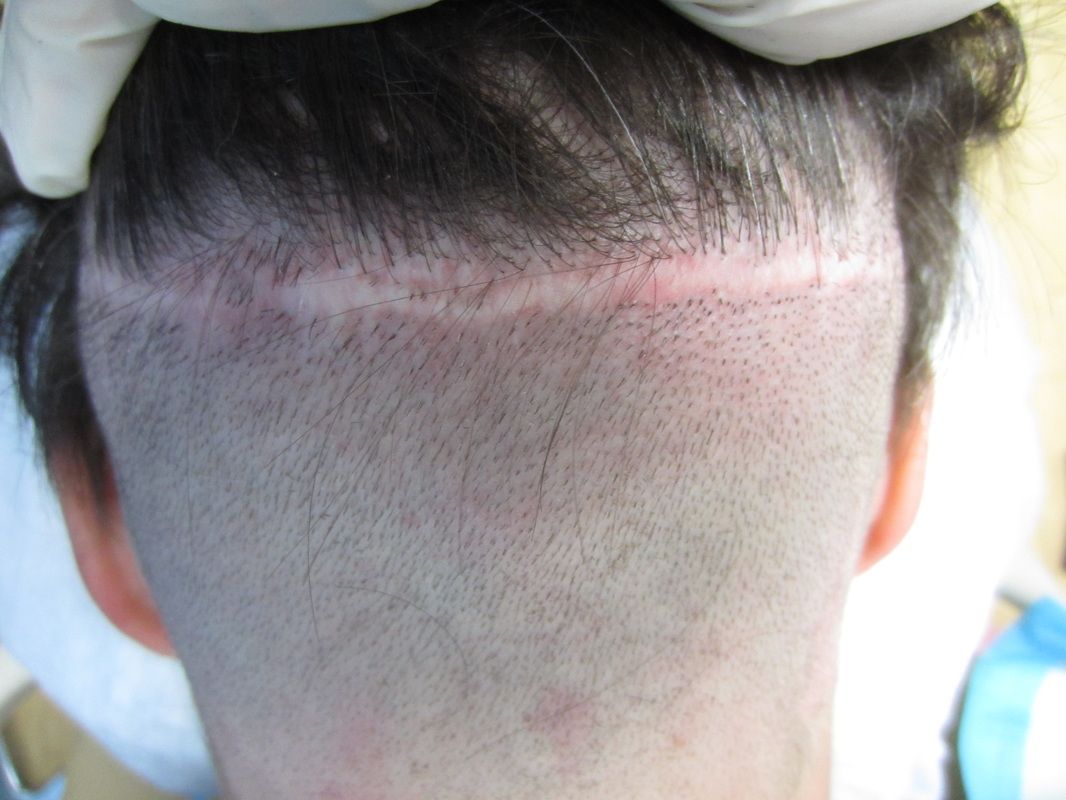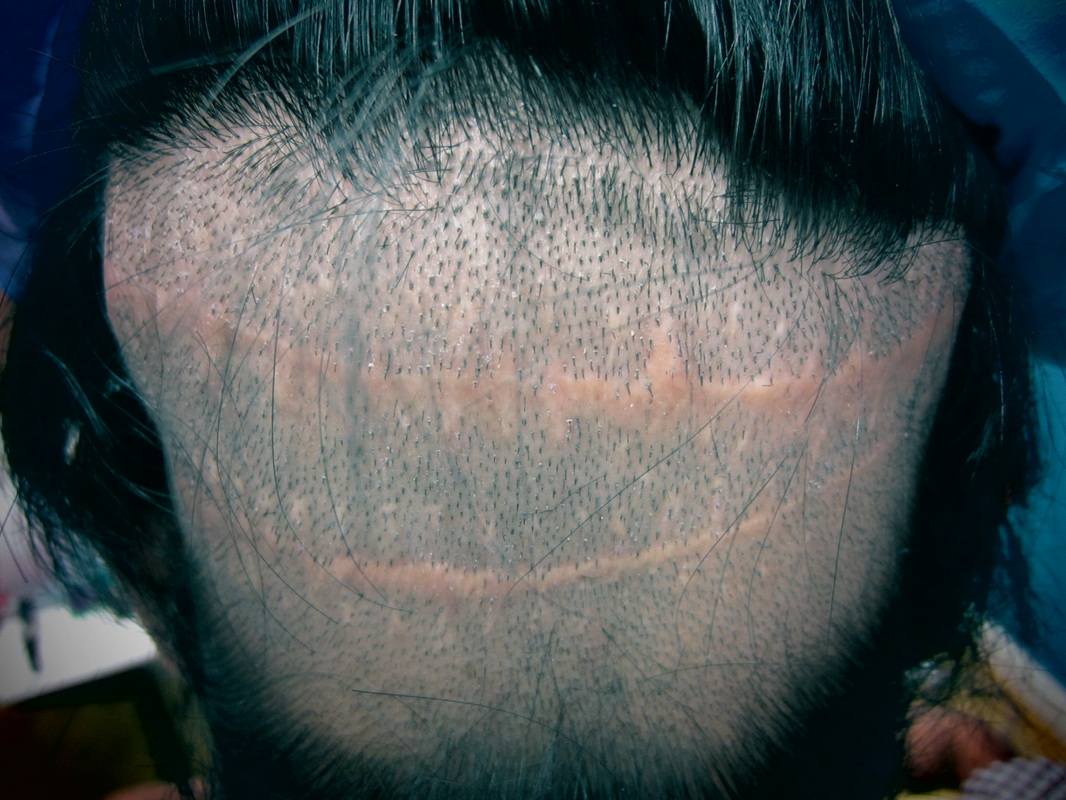 These photos shows other examples of a line scar that formed after strip harvesting for hair transplant surgery by the FUT method, not the FUE method. The patient wanted further hair restoration but did not want to undergo another large incision and decided to instead opt for our hair transplant houston center's FUE approach. As in this case, most patients with a line scar from strip restoration harvesting have to keep their hair very long to conceal the scar. To avoid this type of scar, we suggest patients be well informed about the options and to learn more about FUE hair transplants.
When comparing your options of neograft FUE, artas robot FUE, or other FUE methods versus a strip harvest surgery, consider the scars that can be produced after multiple procedures, Often, hair transplant patients require several procedures, and thus the old style strip harvest can produce multiple scars.
Scar revision using FUE is a real possibility, contact us for your consult to discuss your options on this approach with no obligation to you. Compare FUE vs FUT Strip surgery results in all aspects, and remember the scar can be really small or really big with FUT. However, the FUE approach does not produce a line scar.