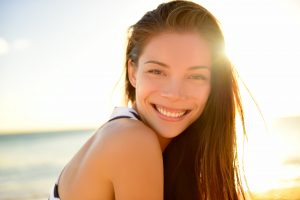 Many people are familiar with male hair loss. It seems that each family has a father or uncle who laments the loss of their once full head of hair.
Male pattern baldness and hair loss is a noticeable development that men commonly experience as they age. However, female hair loss is just as common! Over 50% of women in the U.S. notice hair loss that is significant. Female pattern hair loss is common and affects millions of women today.
Female hair loss isn't talked about as much as male hair loss and it may come as a shock to some women that they are losing hair.
We understand that your hair is a focal point of your beauty and youth, which is why we offer a large array of hair loss treatments. Our selection of hair loss treatments are designed to help women with small amounts of thinning to women who are developing a bald spot. Each treatment is unique and will be personalized to your aesthetic goals and the state of your hair. We want each woman to leave our office feeling confident that her hair is on its way to becoming thick and luscious again.
Causes of Female Hair Loss
Female hair loss is a complex development that can be caused by a number of factors. We can schedule a complimentary consultation with you prior to arranging an appointment for a hair restoration procedure. This consultation will allow us to determine if one of the reasons below is the underlying cause of your hair loss. Whatever the reason for your hair loss, we will work with you to decide which treatment will restore your hair.
Hormones
Hair loss on the scalp is often linked to fluctuations in hormones. That is why so many women who are pregnant, going through menopause or have thyroid dysfunction notice a change in the thickness of their hair.
Heredity
A woman's family history is another common reason for hair loss. Look at your parents', grandparents', uncles' and aunts' hair pattern. Their hair can be a good indicator of what your hair will look like as you get older.
Medications
Your hair loss or thinning may be linked to medications and/or supplements. Certain drugs like those used in the aid of arthritis, depression or blood pressure may be the cause of your hair loss concerns. Our doctors will take the time to review your medications and supplements to see if they may be linked to your loss of hair. We offer treatments that can help fill out hair loss so you can look and feel your best!
Radiation
Women who have undergone radiation on their head will often notice a loss or thinning of hair. This hair can still grow back after radiation treatment is complete but it may not be the same texture or thickness.
Stress
Stress can affect many aspects of a person's life. This stress can be caused from a shocking event or from a situation like a stressful job. Hair loss associated with stress is often temporary but may cause hair thinning or loss for up to several months.
Weight Loss
Large amounts of weight loss can leave your body with less proteins, iron and necessary dietary supplements that supports many aspects of your body including your hair. Hair follicles may move into an inactive stage when the body is put under physical stress. This hair loss may be temporary.
Hair Treatments
Another common link to hair loss in women are hair treatments or hairstyles. Excessive heat, bleaching, or tight hairstyles such as braids, cornrows or pigtails can cause hair loss. Traction alopecia is associated with hair styles like the ones listed above when the hair is pulled very tight.
Hair treatments like bleaching can kill hair follicles and hot oil treatments often cause inflammation in the follicles that leads to hair loss.
Your self-esteem can take a blow from a loss in hair volume – especially when bald patches develop. Our unique treatments address the diverse hair concerns our patients come to us with.
Hair Loss Prevention
We encourage patients to incorporate hair loss prevention steps into their hair care. This should include avoiding:
Tight hairstyles (like braids, buns, etc.)
Compulsive pulling on hair
Harsh scrubbing when washing your hair
Aggressive hair brushing
Heat treatments (hot rollers, oil treatments, curling irons, etc.)
UV rays
Smoking
Or adjusting medications that have been linked to hair loss
For patients undergoing chemotherapy, we understand you cannot avoid this treatment. However, ask your doctor if you can wear a cooling cap before, during and after a chemo appointment. Cooling caps may help reduce hair loss. These prevention tips are great to use on their own or in addition to one of the hair loss treatments we offer.
Female Hair Loss Treatments
Our solutions range from topical medications to follicle transplant treatments. A consultation will help us determine which treatment is perfect for you.
Minoxidil (Rogaine)
Rogaine is a very popular hair loss treatment and you have no doubt heard about it. This topical medication was approved for female use in 1991 and has proven an effective treatment for maintaining healthy hair. This treatment allows your hair follicles to work efficiently and remain healthy.
PRP (Platelet Rich Plasma)
PRP is used for many treatments! Platelet-rich plasma is an effective healing serum that uses proteins and cytokines from your own blood to enhance the healing speed and efficiency of your own body. A PRP treatment begins with a blood draw. The vial of blood will be placed in a centrifuge for a few minutes. In this spinning process, the red blood cells will be separated from the plasma and rich platelets, creating PRP.
The PRP will then be injected into the balding and thinning areas of the scalp. PRP will enhance blood flow, oxygen levels, and skin function, allowing your hair follicles to work effectively.
Follicular Unit Extraction (FUE)
FUE is our specialty! This treatment is advanced and effective at restoring hair growth and helping you look younger and healthier. No incision or scalpel is used in FUE treatment – making it one of our most popular treatments. Female hair transplant can be performed seamlessly with this method. An FDA-cleared device called the NEOGRAFT is used to remove hair follicles which are then transplanted to the area of concern. Downtime is minimal and much more comfortable than a traditional hair transplant treatment that requires an incision.
NeoGraft
NeoGraft is one of the tools we use to perform FUE. This device is motorized and allows a "no-touch" procedure. The device does all the work and we don't have to touch your skin, making the treatment hygienic. NeoGraft has an advanced accuracy and speed that allows your procedure to be relatively quick in regards to the traditional incision method.
At Houston Hair Transplant Center, we offer top revolutionary hair restoration treatments.
You can look through our reviews to see how satisfied our patients are with the treatments we offer. All patients are welcome! We provide treatments for African American hair transplants, hair transplants for curly hair, and facial hair transplants that include mustaches, beards, and eyebrows. Whether you are looking for a body hair transplant or African hair transplant FUE, we specialize in hair to help all people look and feel their best.
We help patients from all over Texas including Houston, Sugarland, Austin, San Antonia, and South Texas. Give us a call today to see how we are providing the best hair restoration and hair replacement techniques offered today!
FAQs
What can a woman do about hair loss?
There are many steps women can take to prevent hair loss or address already balding or thinning areas. Your hair is a large part of who you are. When your hair is healthy, you look young and healthy! The importance of hair is not overlooked at the Houston Hair Transplant Center. That's why we encourage you to schedule a consultation with Dr. Jezic to discuss your concerns. Dr. Jezic will set you in the right direction and create a treatment plan that is personalized to your appearance.
Is female hair loss reversible?
It can be! Your hair loss may be temporary and grow back after a few months. Even if it is permanent, we can help you! We offer treatments that will improve the health of your scalp so that your hair can grow well. Your scalp is very similar to a garden: your scalp needs to be healthy in order for your hair follicles to produce healthy hair. We offer treatments that can improve the blood and oxygen flow of your scalp's skin so that hair can grow well.
What causes female hair loss at temples?
Hair loss at the temples is often caused by stress or changes in hormones.
Can hair grow back after thinning?
Yes! Hair can grow back after thinning. We suggest healthy hair care that does not include abrasive treatments or tight hairstyles. These preventive measures along with a hair loss treatment will set you up for long-lasting, healthy hair.
Why does women's hair fall out?
Women's hair may fall out due to many reasons such as changes in hormones, stress, weight loss, medications, family history, and many other factors.